Stainless Steel Monoblock Centrifugal Pumps Supplier
Salient Features:
Designed and manufactured to transfer a variety of liquids in Pharmaceutical, Food Processing, Beverage, Dairy and other allied industries.
The Sanitary Fitting and Construction Form High Grade - Pressed Stainless Steel ensures smooth and even transfer of liquids.
Sturdy construction, easy to install, dismantle and assemble.
Highly lapped and finished Mechanical Sealing System ensures leak-proof working.
Operation Characteristics are for water
Make suitable viscosity and density corrections for liquids other than water.
Specifications
| | |
| --- | --- |
| Material | Stainless Steel |
| Max Flow Rate | 140LPM |
| Head | Max 26Mtr |
Additional Information
| | |
| --- | --- |
| Min. Order Quantity | 10 Piece(s) |
Detail Chart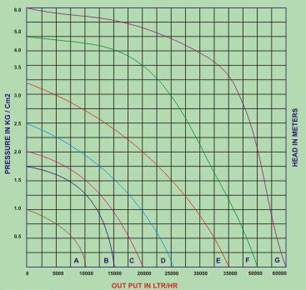 Details
Characteristics Curve Ref. (Model)
Motor
Impellers
Standard Connection
Over all Dimensions
H.P.
R.P.M.
Diameter
Type
A
1/2
2800
80 mm
Open
19 mm
350 x 160 x 180
B
1
2800
110 mm
Semi Open
25 mm
370 x 200 x 220
C
2
2800
125 mm
Semi Open
38 mm
370 x 200 x 280
D
3
2800
135 mm
Semi Open
51 mm
430 x 250 x 350
E
5
3800
150 mm
Semi Open
51 mm
450 x 300 x 350
F
7.5
2800
172 mm
Semi Open
65 mm
570 × 300 × 400
G
10
2800
192 mm
Semi Open
65 mm
610 × 350 × 430
Stainless Steel Centrifugal Pump Performance Data
| | | | | | |
| --- | --- | --- | --- | --- | --- |
| Model | Suction(M.M.) | Doscharse(M.M.) | Impellers Dia Size in M.M. | Power of Motor H.P. | Capacity in L.P.H. |
| SR-0 | 12 | 12 | Open Impeller 80 | 1/4 | 5000 |
| SR-A | 19 | 19 | Open Impeller 90 | 1/2 | 7000 |
| SR-B | 25 | 25 | Semi Open Impeller 110 | 1 | 16000 |
| SR-C | 38 | 38 | Semi Open Impeller 125 | 2 | 20000 |
| SR-D | 38 | 38 | Semi Open Impeller 135 | 3 | 25000 |
| SR-E | 50 | 50 | Semi Open Impeller 150 | 5 | 35000 |
| SR-F | 63 | 63 | Semi Open Impeller 172 | 7.5 | 40000 |
| SR-G | 75 | 75 | Semi Open Impeller 192 | 10 | 45000 |